As a tumultuous 2018 season came to an end, Dalton Pompey had more questions than answers.
His season had started with a right wrist sprain that sidelined him for more than a month. Later he missed all of June with a torn thumb ligament, and an August altercation with triple-A manager Bobby Meacham led to a suspension without pay. In September, when nearly everyone on the Blue Jays' 40-man roster was called up, Pompey wasn't invited.
By then, the subtext seemed clear: Pompey, the Mississauga, Ont., native who once ranked among Toronto's top prospects, appeared to have fallen out of favour with his hometown team.
"It was the first time in my career that I would look in the mirror and I didn't know what was going to happen," Pompey said.
He knew he was frustrated with the way his season had unfolded both on and off of the field, but he wasn't sure what to expect when he met Blue Jays GM Ross Atkins for lunch in September.
They spoke for a while on a wide range of topics: Pompey's 2018 performance, his goals for 2019 and his standing in the organization. Eventually, the conversation shifted and Atkins suggested that Pompey could benefit from talking to someone he trusts on a more personal level about his successes and struggles.
"Because it's a lot," Pompey said. "Being a professional athlete is a lot."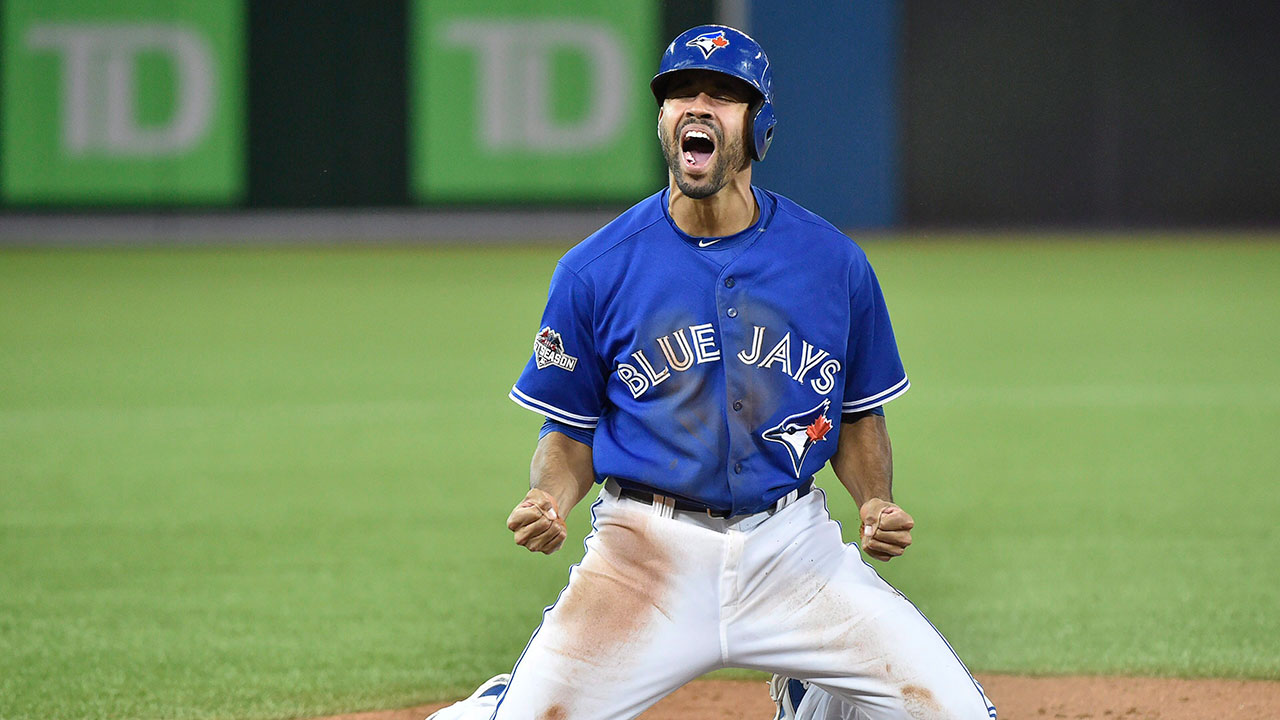 Toronto Blue Jays pinch-runner Dalton Pompey reacts as he's safe at third base during the seventh inning of Game 5 of the American League Division Series against the Texas Rangers in 2015. (Nathan Denette/CP)
Months later, Pompey's talking to a life coach every two weeks– "she's basically like my therapist"– and those conversations have improved his state of mind. As he heads into a make-or-break year with the Blue Jays, the 26-year-old outfielder says he's better equipped to handle baseball's inevitable failure, and hopeful some new ways of thinking will help him deliver on the field in 2019.
"This is a big year for me to try to keep my mind right," Pompey said. "She really helps me. She always tells me: she's not my friend, she's there to let me know her opinion and then be real with me. I feel like I'm in a better frame of mind–the best frame of mind I've been in since I can remember."
A friend recommended the life coach to Pompey, who connects with her on FaceTime. Already, their conversations have prompted Pompey to reflect and learn from events that held him back in the past.
"Whether it's interactions with some people, things that happened on the field," Pompey said. "Maybe a couple of failures that I had–just getting over them, because I could never get over them. Looking back, I wish I could have, but I just didn't know how to. She gave me the tools to do that."
For example Pompey would have been inclined to dismiss negative thoughts or feelings in the past. Now, he's trying a different approach and liking the results.
"She's really big on sitting on those feelings," Pompey said. "Realizing how it makes you feel and once you identify those feelings, then it's easy to change that feeling into something more positive."
Ben Nicholson-Smith and Arden Zwelling take fans inside the Blue Jays and around MLB with news, analysis and interviews.
Like all MLB teams, the Blue Jays are required under the collective bargaining agreement to provide mental coaches. Their front office now includes three mental performance coaches as a way of ensuring that players have access to support over the course of a long and often-stressful season spent on the road away from friends and family.
Pompey grew close with former mental skills coach Paddy Steinfort when he worked for the team, and he says their conversations helped him considerably. Still, to some extent he always felt guarded speaking to a team employee.
"When it comes to my life and my career, you don't tell (team) people everything, you know what I mean?" Pompey said. "I just didn't feel comfortable being free and being open with them. At the end of the day, I don't know where that information goes. They work for the team and I don't know."
That's where Pompey's life coach offered a welcome contrast. Because she doesn't know Pompey or even live in his city, he could tell her anything without feeling as though he had to hold back.
"It felt good to be able to do that," he said.
Of course none of that progress lends any real clarity to Pompey's status with the Blue Jays. With Kevin Pillar, Randal Grichuk, Billy McKinney and Teoscar Hernandez slated to play outfield in the big-leagues, there's no clear spot for Pompey. Even at triple-A, Anthony Alford, Jonathan Davis and Dwight Smith Jr. all earned September call-ups in 2018 while Pompey did not.
Under those circumstances, the Blue Jays are open to trading Pompey, though he wouldn't have much surplus value after an injury-filled season in which he posted a .718 OPS at triple-A. But it's also possible that Pompey will still be on the Blue Jays' roster when spring training begins.
He says he's feeling strong enough physically to show the Blue Jays something this spring. His wrist and thumb have healed, and his upcoming stint with Team Canada at the Pan Am Games Qualifying Tournament should ensure he's fresh once Grapefruit League games begin. Plus, as an out of options player, he'll have to pass through waivers if he doesn't make the club's opening day roster. Pompey's hoping that will play in his favour.
"I've been here almost ten years now and I feel comfortable obviously, but at the end of the day it's my career and I'm going to make the most of it," Pompey said. "I'm not getting any younger. I'm 26 now, so I feel like there's no better time than now. If they really value me, they'll give me an opportunity to play. If not, then hopefully somebody does. I think time will take care of that."
And in the meantime, he feels better-equipped to handle the ups and downs between the lines.
"I feel like I've definitely changed."