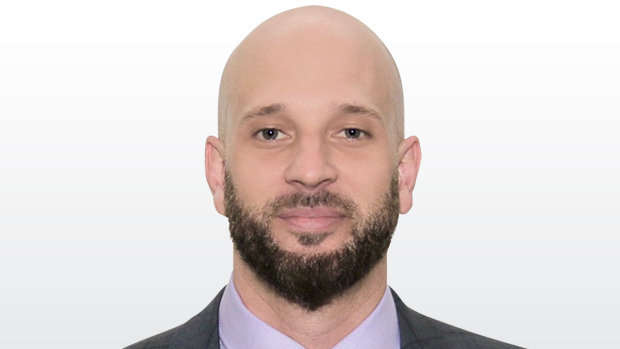 TORONTO – The rebuild has begun in earnest and the plan to be contending again by 2021 is constructed around the list of names you're about to read.
As the on-field product has deteriorated over the past two years and an aging roster has slowly been torn down piece by piece, the minor-league system is starting to spit out talent little by little.

In a few months, it'll cough up the crown jewel, a legit future MVP candidate in Vladimir Guerrero Jr.
Thanks to the timing of things, Blue Jays fans aren't going to have to endure the full-scale rebuild that has become popular in recent World Series-winning cities like Chicago and Houston, a trend that's hoping to be followed in Atlanta, Philadelphia and San Diego.
Earlier this week, seven Blue Jays prospects were shuffled onto Baseball America's annual top 100 list.
That's the most ever.
It's the same top seven, in a bit of a different order, you'll read below.
Another positive is the majority of that high-end talent is also fairly close to the majors, led by a player most consider to be generational.
Quantity, quality, proximity.
While prospect stock is fickle and opinions vary, it doesn't get much better than that.
If there's a weak point, it's on the starting pitching side, a need Blue Jays general manager Ross Atkins has pointed to throughout the organization numerous times this off-season.
Here's a breakdown of the top 50 by position:
Catchers: 8

Corner infielders: 5

Middle infielders: 9

Outfielders: 11

Pitchers: 17
It's also a mixed bag when it comes to how this system was built.
A good chunk of talent is left over from the Alex Anthopoulos era – 11 were brought into the organization prior to 2016 – while a number of names, especially in the 11 through 31 range, have been added recently via trade.
Here's how the 50 players were acquired:
Trade: 14

MLB Draft: 25

International free agents: 10

Rule 5 Draft: 1
Without further ado, the top 50 prospects in the Blue Jays' pipeline:
1. 3B Vladimir Guerrero Jr.

Age: 19 (03/16/99)

Expected starting affiliate: Triple-A Buffalo

2018 rewind: Vladdy Jr. tore through Double-A and Triple-A pitching and would have been well on his way to a call-up had the pesky service time element not come into play. Even with a strained patellar tendon in his left knee stealing a few weeks, Guerrero Jr. slashed .381/.437/.636 with 20 homers in 408 plate appearances, overall. 

2019 outlook: That aforementioned service time manipulation means Guerrero will need to stay down in Triple-A to start the season in order to gain a seventh year of contractual control, before arriving in the big leagues sometime in April. Now that each MLB season is 187 days, up from 183, teams have to keep star prospects in the minors for at least 16 days to start the season, keeping them under the 172-day threshold for a year of MLB service. Business stuff aside, Guerrero Jr. is the best prospect in baseball and he's major-league ready.

ETA: Early 2019
2. SS Bo Bichette

Age: 20 (03/05/98)

Expected starting affiliate: Triple-A Buffalo

2018 rewind: On May 23 last year, Bichette went 0-for-4 to drop his season line to .237/.313/.356 with just one home run in 42 games. Then things started to click. Over his next 89 games, Bichette slashed .309/.359/.500 with 10 homers and 23 stolen bases in his age-20 season, which is still extremely young for the Double-A level.

2019 outlook: Bichette will go ahead and attempt to master Triple-A, the final rung on the minor-league ladder. Opinions are still split as to whether Bichette will remain at shortstop, but he's turned many doubters in that area into believers over the past year. Blue Jays general manager Ross Atkins has already said a full year in Buffalo may be ideal, but Bichette will attempt to change that and force his way into the mid-season call-up conversation.

ETA: 2020
3. C Danny Jansen

Age: 23 (04/15/95)

Expected starting affiliate: MLB Toronto

2018 rewind: After a breakout 2017 season put him on the prospect map, many wanted to see Jansen prove himself and do it again. That's exactly what the Wisconsin-bred catcher did, posting an .863 OPS in Triple-A before arriving in the big leagues and holding his own over 31 games.

2019 outlook: With Russell Martin traded, the future is now for Jansen behind the plate. Offensively, Jansen has a well-rounded profile with some pop and the ability to get on base, while his defence is seen as good enough to get by at this point. He's an important piece of the future.

ETA: 2018
4. RHP Nate Pearson

Age: 22 (08/20/96)

Expected starting affiliate: High-A Dunedin

2018 rewind: Things couldn't have gone worse for the 6-foot-6, flame-throwing horse out of Florida. In the spring, a strained intercostal muscle in his ribcage set him back. When he got on the mound, he was promptly struck by a line drive just five outs into his first start, effectively ending his season with a fractured right forearm.

2019 outlook: Pearson was able to get back on the mound in the Arizona Fall League, almost breaking the radar gun in the Fall Stars showcase game with a 104 mph reading. The main goal in 2019 will be building up Pearson's workload after a lost season, but if he starts rolling, don't be surprised to see a quick promotion to Double-A.

ETA: 2020
5. SS Kevin Smith

Age: 22 (07/04/96)

Expected starting affiliate: Double-A New Hampshire

2018 rewind: Smith came with a bit of a glove-first reputation after being selected in the fourth round of the 2017 draft out of Maryland, but he's quickly shed that scouting report by crushing pro pitching. After a ho-hum debut in '17, Smith went out and hit 25 homers and stole 29 bases across two levels in 2018, which led to his inclusion on Baseball America's top 100 prospect list.

2019 outlook: The true test for Smith will start out of the gates this April, as he'll take over shortstop duties at Double-A with Bichette heading up to Triple-A. His ability to play short, third and second — with potentially enough bat to profile at the hot corner — should come in handy down the line.

ETA: 2020
6. RHP Eric Pardinho

Age: 18 (01/05/01)

Expected starting affiliate: Low-A Lansing

2018 rewind: It's hard to have a more impressive debut than this Brazilian bonus baby. At the age of 17, Pardinho was aggressively assigned to rookie-level Bluefield, where he went out and posted a 2.88 ERA across 11 starts.

2019 outlook: Don't let the birth certificate or size (5-foot-10, 155 pounds) fool you. Pardinho is advanced beyond his years, showing excellent control and mid-90s heat to boot. Pitching prospects are unpredictable, but the $1.4 million bonus the Jays threw at Pardinho seems like a fair price of admission after watching his debut.

ETA: 2023
7. 3B Jordan Groshans

Age: 19 (11/10/99)

Expected starting affiliate: Low-A Lansing

2018 rewind: When the Jays popped this Texas high schooler at 12th overall last June, many thought it was an overdraft designed to help secure the rights to his friend, right-handed pitcher Adam Kloffenstein, a little later in the draft. While the Jays did sign Groshans for under slot, they also had him sixth overall on their draft board. After showing well in his debut, some now agree that he looks like a top 10 talent from the 2018 draft.

2019 outlook: This is where teenagers are supposed to be developmentally. They're not all Vlad. Groshans will tackle the challenge of full-season ball and he could shoot up prospect lists if he succeeds.

ETA: 2022
8. RHP Sean Reid-Foley

Age: 23 (08/30/95)

Expected starting affiliate: Triple-A Buffalo

2018 rewind: After a tough 2017 season that rubbed a lot of the shine off his prospect status, Reid-Foley quickly made up for it, missing a whole lot of bats in the upper minors on his way to the majors. In seven starts with the Jays, Reid-Foley struck out 11.3 per nine innings, but an elevated home run rate and command issues led to a 5.13 ERA in his debut.

2019 outlook: The powerfully built right-hander will head into spring training "competing" for a spot at the back end of the rotation, but without some sort of dominant March – or an unforeseen trade – Reid-Foley will cede the fifth spot to Clayton Richard and end up back in Buffalo to start the season. Even though there are flashes of dominance, fastball command is the focus for SRF and he'll likely pitch significant big-league innings this season.

ETA: 2018
9. OF Anthony Alford

Age: 24 (07/20/94)

Expected starting affiliate: Triple-A Buffalo

2018 rewind: The Blue Jays' pipeline has been littered with positive stories over the past year and a half. Alford is not one of them. In the middle of a great spring last year, Alford suffered yet another injury, going down with a hamstring strain in mid-March. While the leg problem only kept him out for about three weeks, Alford struggled mightily when he returned, finishing the season with a .240/.312/.344 slash line in 105 Triple-A games.

2019 outlook: Atkins all but ruled out Alford making a case for an opening-day roster spot earlier this winter. Instead, he'll head back to Buffalo to try to cut a rising strikeout rate (26.9 per cent in 2018, up from 15.6 per cent the year before in Double-A) and put himself back on the map for when outfield help is needed.

ETA: 2017
10. 2B/OF Cavan Biggio

Age: 23 (04/11/95)

Expected starting affiliate: Triple-A Buffalo

2018 rewind: At this time last year, Biggio was just an idea – a bloodline player with a work ethic that may allow him to exceed expectations and get the most out of average tools. Well, a year later, after swing changes led to a 26-homer season in Double-A, Biggio is knocking down the door as a potential super-utility piece at the big-league level.

2019 outlook: No one is quite sure where Biggio will end up defensively – he's spent the majority of his time at second base, but has dabbled and first and third, before the Jays sent him to the AFL to work on tracking balls in the outfield corners – but if he continues hitting at Triple-A this summer, the Jays will find a place to play him. Turning 24 in April, Biggio isn't yet on the 40-man roster, but it wouldn't be surprising to see him recalled if injuries strike, thanks to his versatility.

ETA: Late 2019
11. RHP Hector Perez

Age: 22 (06/06/96)

Expected starting affiliate: Double-A New Hampshire

2018 rewind: Arguably the most interesting arm of the three the Blue Jays acquired in exchange for Roberto Osuna, Perez allowed just 79 in 115 overall innings last season, showing swing-and-miss stuff to register a 3.76 ERA and strike out 133.

2019 outlook: Like many young starters, Perez will need to refine command of his 95-plus mph fastball to be a viable rotation candidate down the line, maybe as soon as later this season if he puts things together. There's big upside, with the floor being a high-leverage reliever.

ETA: Late 2019
12. RHP T.J. Zeuch

Age: 23 (08/01/95)

Expected starting affiliate: Double-A New Hampshire

2018 rewind: Another starter who remedied a down 2017 season with a strong summer last year, the 21st-overall pick from 2016 registered a 3.17 ERA over 156.1 innings. Even though he's 6-foot-7, Zeuch doesn't possess overpowering stuff, instead relying on a plus sinker to keep balls on the ground.

2019 outlook: At this point, there's a bit of a rotation logjam in front of him, but even if Zeuch returns to Double-A to start 2019, he's still a candidate for a call-up this season if there's a need and he's pitching well.

ETA: Late 2019
13. RHP Adam Kloffenstein

Age: 18 (08/25/00)

Expected starting affiliate: Rookie level

2018 rewind: The Jays tossed $2.5 million Kloffenstein's way to buy him out of a commitment to TCU after selecting him 88th overall last June. He's your typical prep power pitcher: Big frame, big fastball, a lot of polish needed.

2019 outlook: The 6-foot-5, 243-pounder only threw two professional innings last year after signing, so he'll spend time building up innings in the lower levels this season and could see time in Vancouver.

ETA: 2023
14. SS Orelvis Martinez

Age: 17 (11/19/01)

Expected starting affiliate: Rookie level

2018 rewind: Rated as one of the top prospects in last year's July 2 international signing class, the Jays had to ante up $3.5 million — the largest bonus handed out by any team to a 16-year-old last summer — to sign Martinez.

2019 outlook: The scouting reports say Martinez can throw, run, hit, and hit for power. He also just turned 17. For comparison's sake, Vladimir Guerrero Jr. started out at Bluefield in the Appy League as a 17-year-old after signing for $3.9 million in 2015.

ETA: 2024
15. 3B Miguel Hiraldo

Age: 18 (09/05/00)

Expected starting affiliate: Rookie level

2018 rewind: Hiraldo hit well in the Dominican Summer League as a 17-year-old, slashing .313/.381/.453 with a pair of home runs and 15 stolen bases. He didn't fare as well Stateside, hitting just .231 in 10 Gulf Coast League games.

2019 outlook: Signed for $750,000 as one of the top bats on the 2017 July 2 market, the 5-foot-11, 170-pounder is beginning the transition from shortstop to third base, where he made nine of his 58 starts last year. 

ETA: 2023
16. SS Santiago Espinal

Age: 24 (11/13/94)

Expected starting affiliate: Double-A New Hampshire

2018 rewind: The return from the Boston Red Sox for Steve Pearce in June, Espinal slashed .286/.354/.395 with one homer and a couple of steals at Double-A New Hampshire to finish the season. 

2019 outlook: A 10th-round pick out Miami-Dade junior college in 2016, Espinal is a well-rounded player with the ability to also play second and third, but the ceiling is in question as he embarks on a full season in the upper minors.

ETA: 2020
17. OF Billy McKinney

Age: 24 (08/23/94)

Expected starting affiliate: MLB Toronto

2018 rewind: McKinney has started to sacrifice some contact for power and his home run totals have climbed from four in 2016 to 16 in 2017 to a career-best 22 last year. The approach change led to a .252/.318/.462 slash line and a 112 wRC+ in 38 MLB games. He's only prospect-eligible for 11 more at-bats.

2019 outlook: Traded three times already since being drafted by the Oakland A's in the first round in 2013, McKinney will finally get a chance at semi-regular at-bats in the majors this season.

ETA: 2018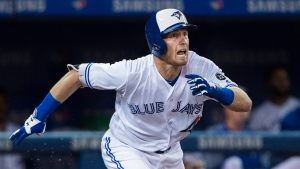 18. OF Griffin Conine

Age: 21 (07/11/97)

Expected starting affiliate: Extended spring training

2018 rewind: The Jays drafted the son of former MLB all-star Jeff Conine with the 52nd overall pick last summer and handed him the $1.35-million slot value to sign. In 230 plate appearances at short-season Vancouver, Conine hit seven home runs.

2019 outlook: Suspended 50 games in November after a positive test for a banned stimulant, Conine will start the season in purgatory down in Dunedin. Keeping the strikeouts in check – he had 63 of them in 55 games in his debut – while maintaining the power will be the goal when the Duke product returns to the field.

ETA: 2021
19. C Reese McGuire

Age: 23 (03/02/95)

Expected starting affiliate: Triple-A Buffalo

2018 rewind: A first-round pick of the Pittsburgh Pirates in 2013, McGuire slashed .290/.333/.581 in his 14-game debut in the majors last September. His .651 OPS in 96 Triple-A games paints a better picture of his offensive upside, but the glove is his calling card.

2019 outlook: With Jansen slated for the majority of the work behind the plate to start the year, McGuire would be better served getting regular at-bats at Triple-A, allowing Luke Maile to caddy in Toronto. The right-handed hitting Jansen and the lefty-swinging McGuire make for an interesting combo down the road.

ETA: 2018
20. RHP Trent Thornton

Age: 25 (09/30/93)

Expected starting affiliate: Triple-A Buffalo

2018 rewind: Buried in a Houston Astros organization that's deep in upper-level arms, Thornton spent the past two seasons pitching better than the numbers suggest at Triple-A. His ERA in the hitter-friendly Pacific Coast League last season was 4.42 in 124.1 innings.

2019 outlook: Acquired in exchange for Aledmys Diaz in November, Thornton was added to the Jays' 40-man roster and will compete for a rotation spot this spring. The 6-foot right-hander will get a long look at some point this year.

ETA: Mid 2019
21. LHP Thomas Pannone

Age: 24 (04/28/94)

Expected starting affiliate: Triple-A Buffalo

2018 rewind: Suspended 80 games after a positive test for the performance-enhancer DHCMT in March, Pannone didn't take the mound until June, but still found a way to make it to the majors in August, thanks to a depleted big-league rotation. In 43 innings, the lefty registered a 4.19 ERA, which included a dazzling near no-no in which he allowed just one hit over seven innings.

2019 outlook: The short and crafty lefty profile isn't an exciting one, but Pannone seems to get the most out of his arsenal. He's another arm competing for a back-end rotation spot in March, but he'll likely land in the Buffalo Bisons rotation to begin the year.

ETA: 2018
22. RHP Elvis Luciano

Age: 18 (02/15/00)

Expected starting affiliate: MLB Toronto

2018 rewind: Signed by the Arizona Diamondbacks in 2016 and traded to the Kansas City Royals in exchange for outfielder Jon Jay last year, the skinny 6-foot-2 right-hander made 12 starts in rookie ball with middling results in 2018.

2019 outlook: It's odd to see that he'll turn 19 in February and write in "MLB Toronto" as the starting affiliate, but that's where we're at after the Jays gambled on Luciano's upside in the Rule 5 Draft in December. There's always a chance this experiment doesn't last into April and Luciano is offered back to the Royals, but if he pitches well in spring training he's either destined for the bullpen or a phantom DL stint. Long term, the Jays see a starter's delivery and repertoire.

ETA: Early 2019
23. OF/1B Ryan Noda

Age: 22 (03/30/96)

Expected starting affiliate: High-A Dunedin

2018 rewind: The three true outcomes king of the system last season, there's a pretty good chance a Noda at-bat is going to end in a walk, a strikeout or a homer. Noda slashed an impressive .256/.421/.484, hitting 20 homers and walking a ridiculous 109 times in 527 trips to the plate.

2019 outlook: While Noda's season was fun in Low-A, he was also a college-aged player who struck out 135 times in 124 games. Since he's limited to either left field or first base, he'll have to hit at every stop along the way.

ETA: 2020
24. RHP Patrick Murphy

Age: 23 (06/10/95)

Expected starting affiliate: Double-A New Hampshire

2018 rewind: Finally healthy, a breakout season led to the wiry 6-foot-4 right-hander being added to the 40-man roster in November. After a couple years of elbow issues, Murphy registered a sparkling 2.64 ERA in 146.2 innings at High-A Dunedin, finally looking like an arm that was taken 83rd overall in the 2013 draft.

2019 outlook: A full season at Double-A will be a huge test for the Arizona high school product, but if he avoids the DL and continues to refine his changeup, Murphy could be a quick mover and arrive before you know it.

ETA: 2020
25. RHP Yennsy Diaz

Age: 22 (11/15/96)

Expected starting affiliate: Double-A New Hampshire

2018 rewind: Diaz was another pitching breakout the Jays system enjoyed last summer, as the Dominican righty limited the free passes to a career best 2.5 BB/9 when he arrived in High-A, throwing a career-high 147.1 total innings.

2019 outlook: How the rotation dominoes fall in front of him will decide whether he returns to High-A after 16 starts there last year or gets pushed to Double-A to begin his age-22 season. Diaz was added to the 40-man roster this winter.

ETA: 2020
26. RHP David Paulino

Age: 24 (02/06/94)

Expected starting affiliate: MLB Toronto

2018 rewind: A one-time top prospect as a starter, Paulino debuted in the Blue Jays bullpen after coming over from Houston in the trade for Roberto Osuna. Shoulder issues limited the 6-foot-7 right-hander to just 35.2 total innings, but he was healthy late, registering a 1.35 ERA in seven appearances for the Jays.

2019 outlook: Heading into his age-25 season and unable to stay healthy in the minors up to this point, the Jays are likely to move Paulino to the bullpen full time this spring and he could carve out a prominent role. He'll be a high-leverage option by the end of the season if things break right.

ETA: 2018
27. SS Logan Warmoth

Age: 23 (09/06/95)

Expected starting affiliate: High-A Dunedin

2018 rewind: Things did not go well for the 2017 first-round pick in his first full pro season, as he struggled with injuries and with the bat at High-A. In the end, Warmoth slashed just .248/.322/.319 with one home run in 75 games.

2019 outlook: Warmoth will get another crack at the Florida State League and hope for better results this time around.

ETA: 2021
28. SS Leonardo Jimenez

Age: 17 (05/17/01)

Expected starting affiliate: Rookie level

2018 rewind: Signed for $825,000 during the 2017 July 2 international signing period, the 5-foot-11, 160-pounder held his own in a 37-game debut in the Gulf Coast League.

2019 outlook: He's not blessed with any standout tools and won't turn 18 until May. In other words, there's a long wait here.

ETA: 2023
29. SS Ronny Brito

Age: 19 (03/22/99)

Expected starting affiliate: Low-A Lansing

2018 rewind: Signed for $2 million by the Los Angeles Dodgers out of the Dominican in 2015 and shipped to the Jays this winter in exchange for Russell Martin, Brito slashed .295/.359/.496 with 11 homers in rookie ball last summer.

2019 outlook: Similar to Santiago Espinal in that he can move around the diamond and may profile best as a utility infielder, Brito struck out in more than 30 per cent of his at-bats last season.

ETA: 2022
30. RHP Andrew Sopko

Age: 24 (08/08/94)

Expected starting affiliate: Double-A New Hampshire

2018 rewind: Selected in the seventh round of the 2015 draft by the Los Angeles Dodgers out of Gonzaga, Sopko was part of the package acquired in exchange for Russell Martin earlier this month. The right-hander touched Double-A last season, pitching to a 3.52 ERA in 117.2 total innings.

2019 outlook: In exchange for a number of veterans worth very little on the trade market, Atkins has collected a number of arms that profile as potential back-of-the-rotation starters. Sopko is the latest. The Jays are hoping one of them exceeds expectations, which would be a win considering what they've given up.

ETA: 2020
31. RHP Julian Merryweather

Age: 27 (10/14/91)

Expected starting affiliate: Triple-A Buffalo

2018 rewind: Merryweather underwent Tommy John surgery in March, before being the lone piece the Jays were able to extract from the Cleveland Indians in exchange for Josh Donaldson.

2019 outlook: Already 27, Merryweather is close to 100 per cent, but will have to spend a good portion of the season working out the kinks in the minors. 

ETA: Late 2019
32. OF Cal Stevenson

Age: 22 (09/12/96)

Expected starting affiliate: Low-A Lansing

2018 rewind: Stevenson already looks like an interesting find in the 10th round of the 2018 draft after the University of Arizona product went out and posted a gaudy .369/.511/.523 slash line in 59 rookie ball games. He also stole 21 bases in 22 attempts.

2019 outlook: His debut was impressive enough for Baseball America to highlight him as late-round sleeper prospect to watch this season, and Stevenson will have to continue to be an on-base machine in full season ball.

ETA: 2021
33. OF Chavez Young

Age: 21 (07/08/97)

Expected starting affiliate: High-A Dunedin

2018 rewind: Drafted in the 39th round in 2016, Young enjoyed an enormous breakout last summer, finishing with a .285/.363/.445 slash line and 44 stolen bases with Low-A Lansing.

2019 outlook: Young popped 50 extra-base hits last season, and the switch-hitter could grow into even more power as he matures. He'll look to carry his momentum into the pitcher-friendly Florida State League this season.

ETA: 2021
34. OF Jonathan Davis

Age: 26 (05/12/92)

Expected starting affiliate: Triple-A Buffalo

2018 rewind: A solid season across the Double-A and Triple-A levels resulted in a .282/.359/.422 slash line and a big-league call-up in September. A late 15th-round pick from 2013, Davis stole 26 bases and was only caught four times.

2019 outlook: There's not much of a ceiling, but speed is his calling card and he should see more big-league time at some point this season.

ETA: 2018
35. 1B Rowdy Tellez

Age: 23 (03/16/95)

Expected starting affiliate: Triple-A Buffalo

2018 rewind: After a tough 2017 season in Triple-A, Tellez fared much better the second time around, showing more power and a livelier bat with 13 home runs. He provided a jolt as a September call-up, as well, belting four homers and nine doubles in 23 games.

2019 outlook: Tellez quickly turned into a fan favourite late last season, but with Justin Smoak set to return at first base and no room for a one-dimensional bench bat, he'll return to Triple-A to start the season. The big lefty will have to continue to hit in order to earn his MLB at-bats.

ETA: 2018
36. RHP Jacob Waguespack

Age: 25 (11/05/93)

Expected starting affiliate: Triple-A Buffalo

2018 rewind: Acquired at last year's trade deadline in exchange for lefty Aaron Loup, Waguespack was very hittable when he landed in the Bisons rotation, pitching to a 5.03 ERA and allowing 47 hits in 39.1 innings.

2019 outlook: The 6-foot-6 right-hander was the most surprising name added to the 40-man roster ahead of the Rule 5 Draft, indicating the Jays front office envisions Waguespack playing a role this season. He could be on the Toronto-Buffalo shuttle in a swingman role.

ETA: Mid 2019
37. C Gabriel Moreno

Age: 18 (02/14/00)

Expected starting affiliate: Rookie level

2018 rewind: Moreno enjoyed an eye-catching debut, putting up a .970 OPS in his first look at Stateside pitching last summer. 

2019 outlook: The Venezuelan backstop is just entering his age-19 season and catchers tend to develop at a slow rate, so don't hold your breath.

ETA: 2024
38. RHP Alejandro Melean

Age: 18 (10/11/00)

Expected starting affiliate: Rookie level

2018 rewind: Signed out of Venezuela in 2017 for $775,000, the right-hander appeared in eight Gulf Coast League games (six starts) at the age of 17, more than three years younger than the circuit's average age. Across 32.2 innings, the 6-foot, 175-pounder walked too many (22), but generally was able to hold his own with a 4.68 ERA.

2019 outlook: Melean sits in the low-90s with his fastball, but the Jays believe it's a starter's delivery and his feel for pitching is considered advanced for his age.

ETA: 2024
39. RHP Jon Harris

Age: 25 (10/16/93)

Expected starting affiliate: Triple-A Buffalo

2018 rewind: The 29th-overall pick in 2015, Harris went out and, for the most part, duplicated his work from 2017 at the same Double-A level, registering an uninspiring 4.75 ERA and 6.5 K/9.

2019 outlook: Passed over in the Rule 5 Draft heading into his age-25 season, Harris' future likely resides in the bullpen.

ETA: Late 2019
40. OF Dwight Smith Jr.

Age: 26 (10/26/92)

Expected starting affiliate: Triple-A Buffalo

2018 rewind: The 2011 53rd-overall pick and son of a former big leaguer saw another cup of coffee with the Jays last season, collecting a pair of home runs in 65 at-bats, pushing his career OPS to .833 in 104 plate appearances.

2019 outlook: He's never been given a chance to play regularly, but Smith Jr. hasn't looked out of place against right-handers over the past couple of years. He'll head back to Triple-A and wait for injuries to strike once again.

ETA: 2017
41. OF Brock Lundquist

Age: 23 (01/23/96)

Expected starting affiliate: Double-A New Hampshire

2018 rewind: After a ho-hum debut in Vancouver as a sixth-round pick in the 2017 draft, Lundquist was impressive in 2018, particularly when he was promoted from Low-A to High-A. In Dunedin, the lefty slashed .337/.401/.483 with five home runs in 49 games.

2019 outlook: Even if he doesn't start there, Lundquist should see time in Double-A this season, and upper-minors pitching will be a good test. If the approach changes stick — he dropped his groundball rate from 50 per cent in 2017 to 35 per cent last year — he could be viewed differently a year from now.

ETA: 2021
42. OF Forrest Wall

Age: 23 (11/20/95)

Expected starting affiliate: Double-A New Hampshire

2018 rewind: Acquired in July from the Colorado Rockies in exchange for reliever Seunghwan Oh, Wall slashed .263/.343/.402 last season, with most of the damage coming in the hitter-friendly California League. He was busy on the basepaths, stealing 38 bases but getting caught 14 times.

2019 outlook: The converted second baseman was not added to the 40-man and then passed over in December's Rule 5 Draft, but Wall's speed gives him a chance to become relevant.

ETA: 2020
43. C Alejandro Kirk

Age: 20 (11/06/98)

Expected starting affiliate: Low-A Lansing

2018 rewind: A 5-foot-9, 220-pound fire hydrant signed out of Mexico in 2016, Kirk tore apart Appalachian League pitching to the tune of a .354/.443/.558 slash line and 10 home runs last summer. 

2019 outlook: Kirk will look to keep the momentum going in 2019 and could get a full season assignment out of the gates.

ETA: 2023
44. C Riley Adams

Age: 22 (06/26/96)

Expected starting affiliate: Double-A New Hampshire

2018 rewind: A third-round pick out of the University of San Diego in 2017, Adams made some adjustments as the season wore on and finished with a .246/.352/.361 slash line.

2019 outlook: In addition to learning all of the nuances of one of the most demanding positions in sports, you'd like to see the 6-foot-4, 225-pounder tap into more power as enters the upper levels.

ETA: 2021
45. 2B Samad Taylor

Age: 20 (07/11/98)

Expected starting affiliate: High-A Dunedin

2018 rewind: The season was a mixed bag for Taylor, who was acquired by the Jays in the trade that sent reliever Joe Smith to the Cleveland Indians at the 2017 deadline. More than two years younger than the average age in Midwest League last season, Taylor slashed .228/.319/.387 and stole 44 bases in 60 tries.

2019 outlook: Taylor can take a walk and steal a base, but he's limited to second base and has struggled through long slumps. He'll get another young-for-his-level challenge at High-A.

ETA: 2021
46. OF Joshua Palacios

Age: 23 (07/30/95)

Expected starting affiliate: Double-A New Hampshire

2018 rewind: A fourth-round pick in 2016, Palacios showed a little bit more power last summer, finishing with a .292/.357/.418 slash line and eight home runs, six more than he had hit in his first two pro seasons.

2019 outlook: The Auburn Tigers product will head to Double-A in search of a breakout season.

ETA: 2020
47. C Hagen Danner

Age: 20 (09/03/98)

Expected starting affiliate: Rookie level

2018 rewind: Danner had a solid sophomore season with Bluefield in the Appalachian League last summer, slashing .279/.409/.432 with two home runs in 32 games.

2019 outlook: Danner was as raw as they come when the Jays selected him in the second round in 2017, but there has been progress.

ETA: 2023
48. C Max Pentecost

Age: 25 (03/10/93)

Expected starting affiliate: Triple-A Buffalo

2018 rewind: After years of shoulder problems since being drafted 11th overall in 2014, Pentecost was finally healthy last season, returning to catching multiple times a week and back-to-back days. The problem was he didn't do much with the bat, slashing just .253/.283/.401 as a 25-year-old.

2019 outlook: One aspect of Pentecost's 2018 campaign that could provide hope was that he hit six of his 10 homers during a torrid final month, but he's heading into his age-26 season and has been passed over by the entire league in two straight Rule 5 Drafts.

ETA: Late 2019
49. 1B Chad Spanberger

Age: 23 (11/01/95)

Expected starting affiliate: Double-A New Hampshire

2018 rewind: Acquired in the July trade that sent reliever Seunghwan Oh to Denver, the 2017 sixth-round pick slugged 27 home runs for three different affiliates, finishing the season at High-A Dunedin.

2019 outlook: The big left-handed hitter could be pushed to Double-A this season, where he'll have to continue to mash as a first-base-only prospect.

ETA: 2021
50. C Javier D'Orazio

Age: 17 (12/28/01)

Expected starting affiliate: Rookie level

2018 rewind: Signed out of Venezuela last July, D'Orazio blew out 17 candles on his birthday cake less than a month ago.

2019 outlook: The Jays signed him because he's already considered an advanced receiver. Check back in a couple years and we may know if he can hit. He was highly regarded in the 2018 international class.

ETA: 2025
THE REST (age, highest 2018 level)

1B Kacy Clemens, 24, High-A

2B Otto Lopez, 20, short-season

SS Kevin Vicuna, 21, Low-A

OF Demi Orimoloye, 22, High-A

OF Gabriel Martinez, 16, has not played

OF Mc Gregory Contreras, 20, short-season

RHP Justin Maese, 22, did not pitch (shoulder)

RHP Sean Wymer, 21, short-season

RHP Jackson McClelland, 24, Double-A

RHP Zach Jackson, 24, Double-A

RHP Maximo Castillo, 19, Low-A

RHP Joey Murray, 22, short-season

RHP Francisco Rios, 23, Double-A

LHP Zach Logue, 22, High-A

LHP Shawn Morimando, 26, Triple-A