Jose Bautista may no longer be a part of the Toronto Blue Jays, but his contributions have not been forgotten.
When one thinks of Jose Bautista and his time with the Toronto Blue Jays, there are certain images that come to mind. He was a prodigious home run hitter, leading the league twice, and hitting over 30 homers four times. He had some of the most impressive bat flips in baseball during his prime, firing his bat with fury after launching the ball into the stratosphere. His time in Toronto will not be forgotten by the Blue Jays faithful.
Those contributions may have been on the mind of a scientist from the Canadian Museum of Nature. He discovered a new variety of beetle in the Dominican Republic, and decided to name the insect after the former Blue Jays slugger.
More from Call to the Pen
Technically a weevil because of its long snout, the Sicoderus baustistai inhabits the forests of Bautista's native Dominican Republic. There, it feeds upon vines, and presumably, pitchers that groove fastballs or hang breaking pitches.
Bautista certainly had the type of career during his time in Toronto that would be worthy of such an honor. He was a six time All Star and a three time Silver Slugger, producing a .253/.372/.506 batting line with 288 homers and 766 RBI during his time with the Blue Jays. His emphatic home run and toss of the bat to send the Blue Jays to the 2015 ALCS are one of the more iconic moments in franchise history.
These days, Bautista's future is in doubt. He spent 2018 taking a tour of the NL East, splitting time with the Braves, Mets, and Phillies. While he still showed that he had some power, hitting 13 homers and 18 doubles in 399 plate appearances, he also struck out 111 times while posting a mediocre .203/.348/.378 batting line. A free agent, he may have trouble finding a landing spot again this offseason.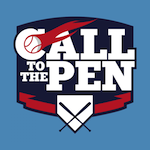 Want your voice heard? Join the Call To The Pen team!
However, this offseason has not been an entire loss, as the former Toronto Blue Jays slugger has had a beetle named after him. Hopefully, it does not run afoul of the Puncherus odori.