Toronto Blue Jays fans waited to see Nate Pearson all season, and on Friday, they got their chance in the Arizona Fall League
The Toronto Blue Jays have received plenty of notice for their top prospect that's in the Arizona Fall League, and though Vladimir Guerrero, Jr. certainly contributed, Nate Pearson was the guy who all eyes were on in Friday's action.
The 6'6″ 250ish-pound Pearson was drafted by the Toronto Blue Jays with the 28th overall selection after he transferred to Central Florida Community College and blew away scouts with his raw velocity and ability to manipulate his breaking pitch.
In his draft season, he made just 8 appearances, but they were enough to set scouts buzzing, with a 0.90 ERA and 0.60 WHIP over 20 innings, with a 5/26 BB/K ratio. The velocity was real, and for a guy of his height, his ability to repeat his mechanics and control his stuff was very impressive.
Then he had to go through a spring when he suffered through an oblique injury, not getting the time on the mound he really needed. In his first start of the season, Pearson was hit by a comebacker and broke his leg.
He missed the rest of the season as the leg healed, but the Toronto Blue Jays had him on their Arizona Fall League roster to get him some innings. He got the first of those innings on Friday.
Pearson walked the first hitter he faced, and then gave up a single to the second hitter, but he settled in quickly, getting a strikeout on Yankees prospect Estevan Florial and getting White Sox prospect Luis Robert to pop out before finishing the first inning on a strikeout.
He opened the second inning again by walking the leadoff hitter, but this time, he got a double play to eliminate the walk. After giving up a single, Pearson got another strikeout to finish out the second inning.
As if a bad habit, Pearson opened the 3rd inning by walking Orioles prospect Steve Wilkerson. He then got a fly ball out and a double play ball to get out of the inning.
Luis Robert opened the 4th inning with a single on the first pitch from Pearson. He struck out Connor Marabell, and that was his final hitter.
His final line was 3 1/3 innings without allowing a run, allowing 3 hits and 3 walks, striking out 4. His Toronto Blue Jays teammate Guerrero slapped 3 singles in 5 at bats, driving in a pair of runs.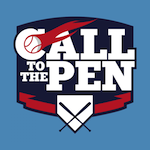 Want your voice heard? Join the Call To The Pen team!
Toronto Blue Jays fans are definitely hoping that Nate Pearson's big arm is healthy and able to move quickly through the farm system in 2019.